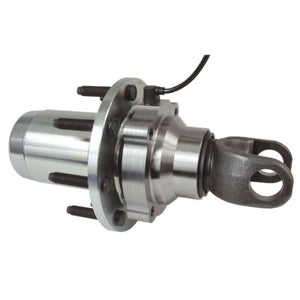 SpynTec Conversion Kit For Dodge 94-99
In our continued pursuit of excellence, Solid Axle Industries releases a new line of fixed spindle conversion kits under the name SpynTec. When we set out to design the final word in unit bearing replacement, we first wanted to understand the weaknesses of the original equipment found in your vehicle. Automobile manufacturers have taken away your ability to maintain your 4x4 by moving to the planned obsolescence of the unitized bearing front end. When the OEM bearings fail, you and your truck are literally stranded until you can replace them, or incur the high cost of towing to your local dealer.

SpynTec kits start with new premium chromoly hub and spindle forgings. All SpynTec kits utilize such names as Timken, SKF, Chicago Rawhide, and Spicer.

Whether you rely on your vehicle for work or play, you can't afford to be sitting still due to an unfortunate bearing failure. Solid Axle industries understands this and has answered with the SpynTec line of unit bearing conversion kits. 
The 94-99 kit does not support front ABS equipped trucks.  The photo attached is not the actual product.

Check out http://www.spyntec.com for more info and pictures.
Price is per Pair
Features
Forged hubs
Forged spindles
Includes all bearings, races, seals, and spindle nuts.
Utilizes premium locking hubs.
Benefits
Eliminates unit bearing hub assemblies prone to breaking
Inexpensive to maintain
Fully rebuild-able
Reduces drive-train wear
Increased fuel economy
Includes
Forged Hubs with Machined Reluctor Ring.
Forged Spindles
Wheel Studs
All Bearings, Races, Seals, Spindle Nuts
35-Spline Stub Shafts
Premium Manual Locking Hubs
---