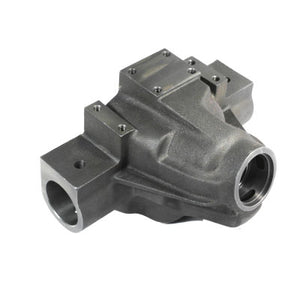 D44 High Pinion Housing
Features
Unlike other manufacturers, standard bearings and components are used.
Only the highest quality nodular iron is used in a Solid Axle Industries' housing.
Includes our own heavy duty nodular iron cover with lifetime warranty.
Will also accept aftermarket differential covers.
Built in leaf spring perches.
Benefits
Three oil gallies ensure proper bearing lubrication.
Higher clearance housing than stock, but also offers a smooth bottom profile allowing the housing to glide over exceptionally rough terrain.
Reinforced ribbed housing offers more rigidity than all other housings.
Thick nodular iron bearing caps complete with grade 8 hardware.
Integrated machined pads featuring eight 1/2-13 tapped holes for mounting suspension and steering accessories.
---